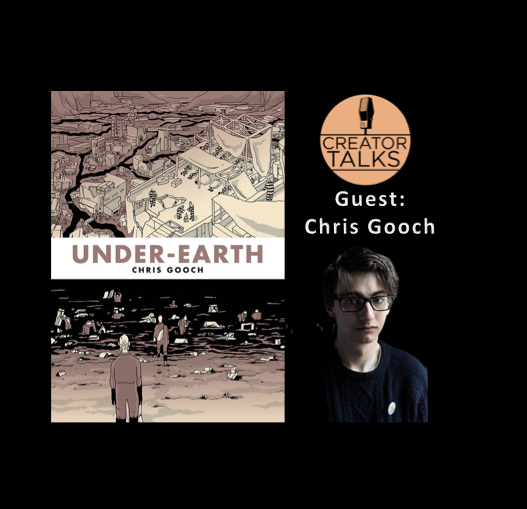 Chris Gooch from Down Under on Under-Earth
Sep 7th, 2020 by creatortalks
September starts out strong for Creator Talks with another bonus podcast for the Labor Day Holiday. 
Award-winning Australian writer/artist Chris Gooch joins me to discuss the making of his graphic novel Under-Earth through Top Shelf/IDW on sale October 2020. This is the second of two graphic novels Certified Cool by Diamond Previews I teased on previous shows. 
Diamond Preview's description of Under-Earth reads:
"The inmates of an expansive underground prison struggle to build meaningful lives in a broken system, in the most ambitious graphic novel to date from rising indie star Chris Gooch...Equal parts sincerity an violence, Under-Earth explores  humanity's inextinguishable drive to find meaning, connection, and even family-and how fragile such constructions can be"
Chris' other notable and award-winning work includes Bottled and Deep Breaths. I discuss these works with Chris as well, and how he works on multiple projects in different stages of development, simultaneously, to keep his work fresh as he grinds through the finishing details. 
We also talk about whom Chris considers his mentors, learning to work digitally and the movie that changed the way he thinks.  
Please rate and review Creator Talks on Apple Podcasts
Creator Talks Theme Song: "Jazz Relax" by LoopsLab 
Share
|
Download