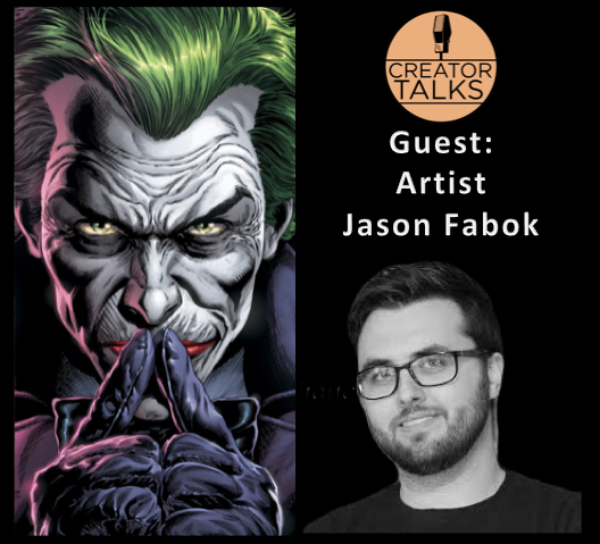 Jason Fabok on Batman Three Jokers
Jul 23rd, 2020 by creatortalks
Wake the kids and phone the neighbors!
DC artist Jason Fabok joins Creator Talks to discuss  Batman: Three Jokers. Years in the making and delayed two months due to the COVID-19 pandemic, issue #1 of this DC Black Label mini-series arrives on August 25th 2020.  
Jason worked on titles Superman/Batman, Batman, Batman Eternal, Dark Knight, Detective Comics and Justice League. He won the 2019 Eisner Award for Best Short Story with Swap Thing Winter Special: The Talking of the Saints. 
Why did Jason decided make a living illustrating comics after going to bible school for one year and how did this choice make his faith even stronger?  
How did David Finch help Jason break into DC comics?
Jason's run with Geoff Johns on Justice League Darksied Wars ended with issue #50.  Learn why they agreed their next story together had to be Batman: Three Jokers.
We also find out how The Killing Joke influences the layout and tone of Batman Three Jokers and why Jason insisted he illustrate all the variant covers for the three part series. 
Jason also discusses working again with his collaborators from Justice League writer Geoff Johns and colorist Brad Anderson. 
I close the interview Kicking Back With the Creator to discover Jason's island book, beverage of choice, action figure accessory and the Batman run that inspired him to be a profession comic book artist.
Creator Talks Theme Song: "Jazz Relax" by LoopsLab 
Please rate and review Creator Talks on Apple Podcasts
More about Batman: Three Jokers 
Share
|
Download