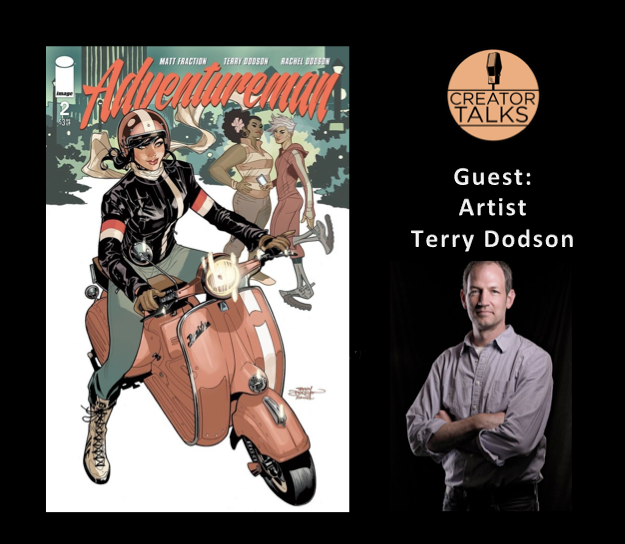 Terry Dodson on Adventureman and X-Men/Fantastic Four
Jul 3rd, 2020 by creatortalks
Extra! Extra! A bonus episode to kick off the holiday weekend, because we could all use a little fun during this difficult time.
Terry Dodson, artist known for his artwork on X-Men, Spider-Man, Harley Quinn and Wonder Woman joins Creator Talks.
Terry discusses his creator own series Adventureman (Image Comics) written by Matt Fraction and his work on the  mini-series X-Men/ Fantastic Four (Marvel) written by Chip Zdarsky.
We dig into the genesis of each series. Why did the first issue of Adventureman need to be super-sized? And will the fall out from the events of the X-Men/Fantastic Four mini-series matter in the grand scheme of Marvel universe?  
Rachel Dodson, Terry's wife, inks both series and most of Terry's other comic work. We discuss the joys of working from home with our spouses and the secret to making it work. 
Terry pulls double duty by penciling and coloring Adventureman.  Why did he decide to take the series palette into his own hands?
Terry was a co-founding member Mercury Studios (now Helioscope Studious) and he explains how it remains an invaluable resource for him. 
With no convention appearances planned this year due to the Coronavirus pandemic, how is Terry still able to connect with fans? 
We share our thoughts and concerns about comic book shops surviving the double whammy of the Coronavirus pandemic and DC's split from Diamond. Is the end of comics nigh (again)? 
I close the interview by Kicking Back with the Creator when Terry answers the question: What was his comic career high, low and adventure!
Creator Talks Theme Song: "Jazz Relax" by LoopsLab
Please rate and review Creator Talks on Apple Podcasts
The Official Terry Dodson Page
About X-Men/Fantastic Four (Marvel)
Share
|
Download