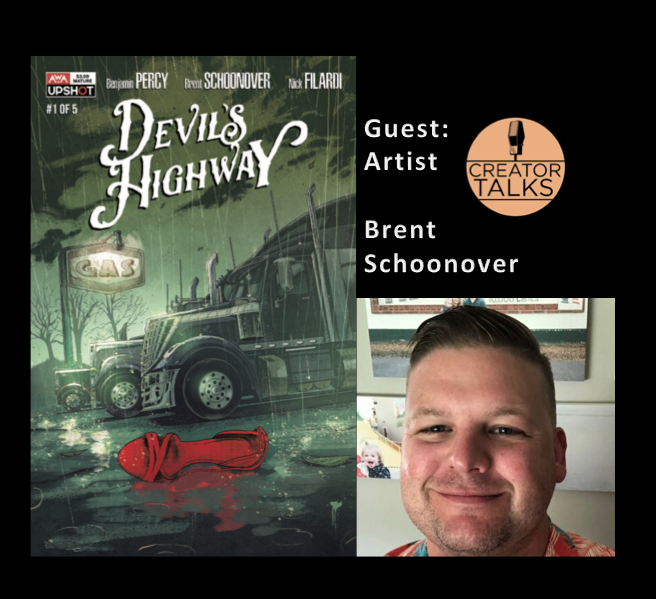 Brent Schoonover artist of Devil's Highway
May 28th, 2020 by creatortalks
Brent Schoonover (artist on Batman '66, The Phantom) visits with Creator Talks to discuss his new comic book project coming in June titled Devil's Highway.  
This five-part comic series is written by Benjamin Percy (Green Arrow, Nightwing) and colored by Nick Filardi.
It's being published by AWA Studios, a new business venture captained by former Vice President of Marvel Bill James and former Marvel Editor-In-Chief Axel Alanso.
Why did the did they decide to launch a new comic book publishing company?
What makes AWA Studios different from other publishers, and why have they decides to release Devil's Highway digitally first then print later?
Other comic book publishers have been reluctant to release their titles digitally in advance since the Covid-19 pandemic which forced the closing of non-essential businesses including our beloved comic book shops.
How did Axel's editorial experience influence Devil's Highway and how did Brent's suggested changes to the script add to the first issue's stunning cliff-hanger? (Not to worry - no spoilers revealed during the interview).
I discuss with Brent some of his other work outside of mainstream comics including a movie house festival poster, a rock legend's concert tour poster, and connecting covers for a television-based comic series. 
During the Kicking Back With The Creator segment, Brent reveals his favorite form of recreation, beverage of choice and the ones that got away...the comic projects that almost happened.
Please rate and review Creator Talks on Apple Podcasts
More about Devil's Highway and AWA Studios
Share
|
Download