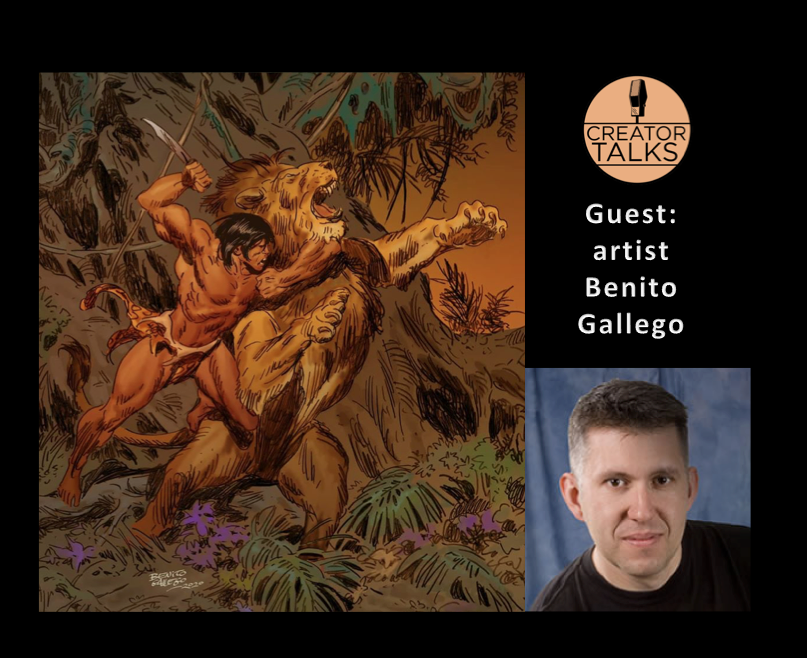 Benito Gallego artist of The Life Bob Marley, Tarzan and The Creeps!
May 25th, 2020 by creatortalks
Not going anywhere this three-day weekend?  Let's visit Spain for this special edition of Creator Talks to meet artist Benito Gallego.
Benito studied art at Faculty of Fine Arts in Spain and is a huge fan of legendary Silver Age and Bronze Age artist John Buscema (The Avengers, Silver Surfer, Savage Sword Conan, Tarzan).
Having a style which harkens back the powerful style of John Buscema, Benito has illustrated comics and strips scripted by the great Roy Thomas including the World War II super-hero team Anthem and The New Tales of Tarzan.
Benito also illustrated the entire run of the Bronze Age flavored super-hero comic Apama, The Undiscovered Animal. This multi-talented artist who also has colored and lettered his own work has made many contribution to horror tales in The Creeps! written by Don Glut, including one of Benito's personal favorites Maciste Against Dracula!
The work that Benito is most proud of is The Life of Bob Marley, which he drew, colored and lettered. 
We learn from Benito what is the fate of the Anthem series, hints about new projects in the works, and the one project that got away!
Please rate and review Creator Talks on Apple Podcasts 
Heroic Publishing fund raiser for Anthem #6
More about The New Adventures of Tarzan
Share
|
Download