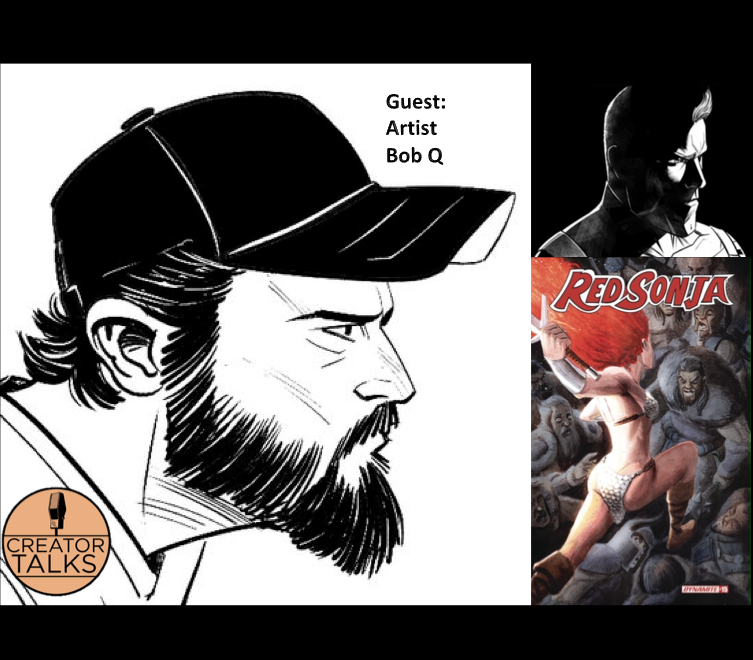 Bob Q artist of Red Sonja, Lone Ranger and Bond Origin
Apr 2nd, 2020 by creatortalks
Let's get away from all the Covid-19 talk and go back to happier days for my fun interview with artist Bob Q.  
This one is sure to lift your spirit!
Bob is currently working on Captain America (Marvel Comics) and Red Sonja (Dynamite Entertainment). Besides that he is the got-to-guy when publishers need to get the art on a comic book done and done right.
Bob has also illustrated other series including Lone Ranger: The Devil's Rope, James Bond Origin, and Green Hornet 66 Meets The Spirit for Dynamite Entertainment.
We talk about a cool museums we have visited, how L.A. has changed since Bob moved there many years ago and the comic conventions we had planned to visit this spring which are now being rescheduled.  
I discuss with Bob some of his other projects, including his creator-owned work and the art he designed for a unique brand of coffee.
We also talk about two other projects  Bob's Drawing Challenge on YouTube and as a helping hand behind-the-scenes for Ms. Q's podcast Boos and Brews.
I wrap up Kicking Back With the Creator and ask Bob the fun questions I ask all my guests.  Enjoy!
Please rate and review Creator Talks on Apple Podcasts 
Share
|
Download