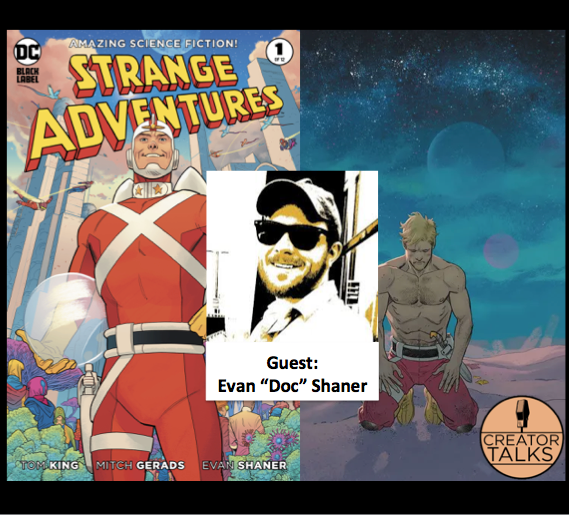 Evan "Doc" Shaner takes on Strange Adventures
Feb 27th, 2020 by creatortalks
My guest is none other than Evan "Doc" Shaner.
Doc was the artist on issues of Adventures of Superman, Doom Patrol, Future Quest and The Terrifics.  Before he became exclusive to DC, Doc also drew Flash Gordon and Kings Watch for Dynamite Entertainment,
Does Doc like being an exclusive artist for DC? Does he find it limiting?
We talk about one dream project he would love to do for DC and a dream cross-over with another publisher.
Doc has worked with several very talented colorist over the years. Why did he decide to color the twelve-part series Strange Adventures himself? He talks about working on the book with writer Tom King, artist Mitch Gerads and how he and Mitch's art will work together to tell the story. 
We also talk about his favorite newspaper comic strips growing up and what he reads today.
Why did Doc decide to switch his career path from playing trumpet to becoming an artist? And how did he get the nick name "Doc"?
When I Kick Back With The Creator I learn what would be Doc's action figure accessory (it's not a pencil!), his beverage of choice and what he knows now he wished he knew when he was younger.
Please rate and review Creator Talks on Apple Podcasts
More about Strange Adventures#1 on sale March 4th 2020
Share
|
Download