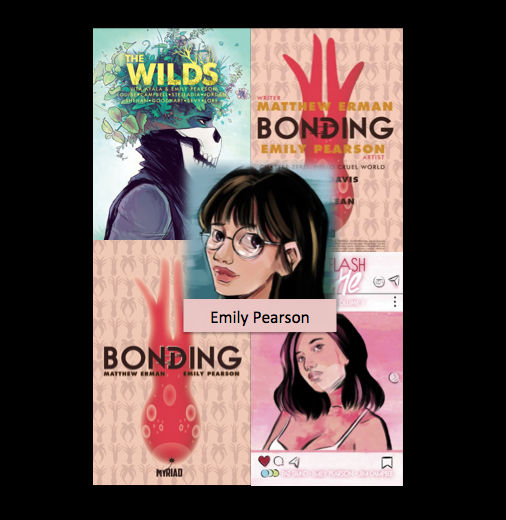 Emily Pearson - Artist on Vault Comics Bonding
Dec 26th, 2019 by creatortalks
Join host Christopher Calloway and artist Emily Pearson for the Creator Talks last podcast of 2019!
Emily's first professional comic art assignments had her join forces with writer Vita Ayala on The Wilds and Pat Shad on Snap Flash Hustle (Black Mask Studios).
Emily also contributed covers to Going to the Chapel (Action Labs) written by David Pepose.
We discuss her next big project coming in 2020, Bonding, written Matthew Erman.  Bonding is part of Vault Comics new MYRIAD line which consists of middle grade (MG) and young adult (YA) graphic novels.
Emily contributed to two Kickstarters, which addressed physical and mental illness: Corpus and Everything is Going Wrong: Comics on Punk and Mental Illness.
Why were these projects special to Emily?
We talk about breaking comfort zones at comic cons and what are some of the ones coming up on the West Coast next year.
All this plus: The real reason Christopher watched The Munsters as a kid, Going to California, Kicking Back With The Creator and Baby New Year makes an unscheduled cameo!
Please rate and review Creator Talks on Apple Podcasts
Share
|
Download