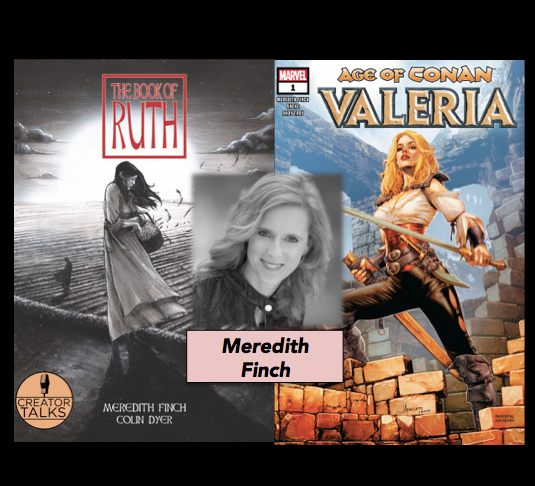 Meredith Finch writes The Book of Ruth and Age of Conan: Valeria
Nov 14th, 2019 by creatortalks
Writer Meredith Finch, best known for work her on Wonder Woman, Rose, and Xena catches up with Creator Talks to enlighten us about her Kickstarter for The Book of Ruth. The classic biblical story is refreshed for a more contemporary audiences set in Texas during The Great Depression. 
Kickstarter has designated it as a "Project We Love".
Nevada local and graduate of SCAD Colin Dyer provides the art for this beautifully illustrated black and white graphic novel. And there are also several additional cover options to choose from contributed by comic pros such as Jason Fabok, David Finch, Billy Tucci and Lee Weeks.
Why did Meredith decide to have her book crowd funded rather than published through Cave Pictures, which published her last mini-series The Light Princess?
Meredith also discusses writing her other series now on sale The Age of Conan: Valeria mini-series for Marvel Comics.
Valeria first appeared in Robert E. Howard's final serialized Conan story Red Nails published posthumously in Weird Tales July through October of 1936. 
What does Valeria's share in common with Meredith's other characters she has written?
How does Meredith's approach add more nuance to Valeria's character and reveal the reason behind her expertise with the sword?
As I bring the interview to a close, Kick Back With The Creator as ask Meredith what grinds her gears, does she have regrets about "the one that got away" and what does she wish she knew when she was younger that she knows now?
Please rate and review Creator Talks on iTunes
About the Book of Ruth Kickstarter
About the Age of Conan: Valeria
Share
|
Download