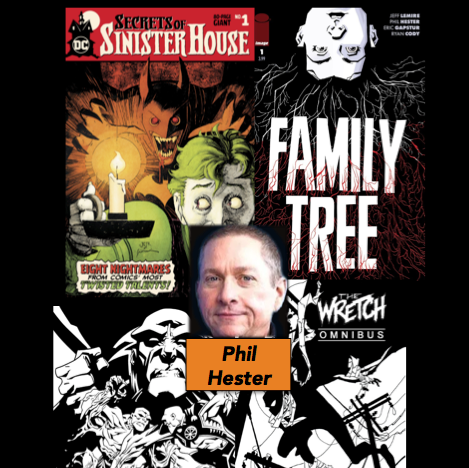 Happy Halloween! Phil Hester returns to talk about his collaboration with Jeff Lemire on Family Tree through Image Comics. What is it like collaborating with Jeff? What has a comics veteran like Phil learned from Jeff about story telling and pacing? 
We share memories of buying packs of comics at large retail outlets, coverless comics and the best hope for comics to continue entertaining and captivating young readers' imaginations. 
Phil and I also catch up on the fate of his cancelled Blood Blister series (Aftershock), his contribution  to DC's Secrets of Sinister House #1 2019 Halloween Special and, finally, the release of The Wrench Omnibus published through Omaha Bound.
We continue our Kicking Back With The Creator questions covering what really grinds Phils gears about some people working in the comics industry, his own regret and proudest accomplishment working in comics. 
Please rate and review Creator Talks on iTunes
More about Family Tree (Image Comics)
Share
|
Download