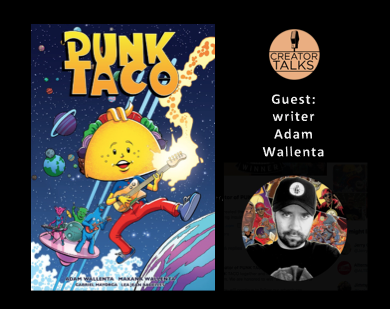 Adam Wallenta of Ringo Award Winning Punk Taco
Jun 11th, 2020 by creatortalks
Adam Wallenta is the co-creator of Punk Taco, the 2019 Ringo Award winner for Best Kids Comic or Graphic Novel.  His co-writer is son Makana who was just five years-old when the book was written.  
Who is Punk Taco? 
"... a lovable, sentient, alien-taco, who rocks out across the galaxy with his band of misfits whom he calls family. Together they spread peace and love through the power of their music, help those in need and battle bullies and evil tyrants wherever they may be.
Written by Adam Wallenta and his 5-year-old son, Makana, Punk Taco is a brand new all-ages sci-fi, humor, adventure, graphic novel series meant to encourage kids to read, laugh and love. Punk Taco is appropriate for libraries, schools and great for kids to read with their parents" -  Comixology.
Adam is busy at work on volume two and three of Punk Taco. What were some of the difficulties he faced distributing volume one before winning the Ringo Award and what challenges did he encounter during the Covid-19 pandemic during the temporary closure of Diamond Distributors?
I discuss with Adam his study of art in the 1990s and his subsequent internship at Marvel Comics working as an assistant editor. We also talk about the importance of communication and follow-up with creators, his love of original art and hip-hop music.
Adam wrote a mini-series about a ground-breaking hip-hop group that he would open for at concerts.  Why did Adam turn down Marvel's offer to publish the series? 
Learn about these subjects and more as I conclude our interview with the podcast's signature segment Kicking Back With The Creator.
Please rate and review Creator Talks on Apple Podcasts
 More about Adam Wallenta and Punk Taco
Share
|
Download